Molecular Diagnostic Systems
Automated Walk-Away Molecular Diagnostic System
This instrument, which automates a patented nucleic acid probe amplification technology for the detection of infectious diseases, was to be the first completely walk-away molecular diagnostic system of its kind. Early instrument prototypes were not functional, so the company turned to KMC Systems because of the project's requirement of advanced engineering and manufacturing capabilities.
KMC Systems enhanced the customer's design to improve reliability performance and software functionality. Because the system conducts automated functions, such as closed-tube sampling, reagent delivery, magnetic separation and washing, expertise in precision motion, software and fluidics was applied. Precision motion control and alignment were especially critical as the instrument was designed with a disposable that needed to be robotically moved in and out of various modules. The instrument also automates thermally controlled amplification and hybridization and chemiluminescence detection.
The manufacturable design was smoothly transitioned to KMC Systems' production facility. KMC has continued to provide sustaining engineering support and implemented continuous reliability improvements, which have resulted in the most successful instrument of its type in the market.
Semi-Automated Molecular Diagnostic System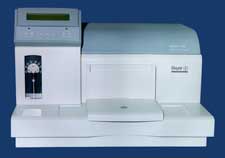 When a company evaluated its production strategy for a semi-automated molecular diagnostic system, it decided to outsource manufacturing for added business value. The instrument, which automates a patented DNA-probe technology for the direct quantification of viral nucleic acids, had several complex components and required advanced manufacturing efforts. Automated features included plate washing, thermally controlled hybridization, and fluorescence signal detection.
KMC Systems was selected as the contract manufacturer due to its extensive experience transitioning complex medical systems and instruments to manufacturing. This industry experience facilitated a seamless transfer of the manufacturing operations from the original manufacturing site to KMC Systems' Merrimack, NH, facility, during which each milestone was successfully reached.
Electrophoresis Molecular Diagnostic System
KMC System contract developed a system that automates the testing of donor platelets for bacterial contamination, using non-amplified, direct-hybridization technology for the detection of bacterial RNA. The device includes two modules, a lysis and hybridization module and an electrophoretic module; both of which were developed by KMC Systems. The device includes a commercial luminometer that performs signal detection.
The system is able to automate thermally controlled cell lysis and probe hybridization, electrophoretic separation, and membrane target capture.