Laboratory Research Products
The laboratory equipment industry is rapidly evolving, with an influx of new advances to simplify and optimize research and sample processing. Below is an example of some of the work KMC Systems has completed for laboratory equipment companies.
Laser Scanning Cytometer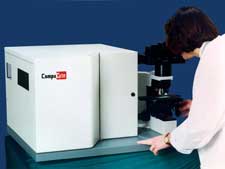 A start-up company developed a proof of principle instrument to detect and quantify the presence of cellular markers from samples on microscope slides. However, the company did not have the resources to develop a commercially viable system and chose KMC Systems as its engineering partner.
The instrument required precision XY-stage robotic function and high-resolution microstepping to effectively move the glass slides so that images of the entire surface could be captured. KMC Systems also developed a multi-wavelength fluorescence detection system with user-accessible interchangeable filter blocks, allowing the user to employ different filter blocks (depending on the type of reagents employed).
After product development concluded, KMC Systems built and tested several prototypes and successfully transitioned manufacturing operations to the customer's facility.
CCD Microarray Scanner
A company with a patented resonance light scatter nanoparticle technology contracted KMC Systems to engineer a device to perform multi-wavelength measurements and CCD image analysis. The instrument automates the scanning of microarrays on up to three microscope slides or one 96-well microtiter plate per run.
KMC Systems provided mechanical, electrical and medical software design services and also developed the overall architecture of the instrument. Key subsystems include the multi-wavelength optical system and the high-precision XY-stage robotics. KMC Systems also created all embedded software development and developed the industrial design of the instrument.
KMC Systems easily transitioned the instrument to its manufacturing facility and produced several hundred units.
DNA Purification System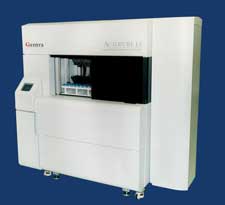 A company with a proprietary nucleic acid purification technology sought a manufacturing partner. The instrument was designed to automate reagent delivery, robotic tube processing, tube uncapping and capping, and decanting. This processes up to 96 samples per eight hours, with sample volumes ranging from 1 to 10 mL.
KMC Systems was selected as the contract manufacturer due to lengthy experience assembling complex medical systems. When the instrument was transitioned to KMC Systems, there were no assembly instructions, no structured bill of material, and no established test protocols. KMC Systems quickly reverse manufactured the product to create the documentation necessary to establish full-scale GMP production.
KMC Systems also provided contract engineering services to redesign the instrument's frame and several subsystems for enhanced manufacturability and reliability.
Cell Analysis System
For a system that analyzes cells in tissue culture plates, KMC Systems provided mechanical engineering design expertise and built prototype systems. A key design requirement was to develop a high precision XY-stage with tight alignment needs to eliminate the necessity to re-focus the image between scans. The project is currently being transitioned to manufacturing.
Real-Time PCR Imaging System
A start-up company with a proprietary thru-hole biochip technology sought an experienced company to develop its product. The company chose KMC Systems due to its expertise in developing and manufacturing advanced medical systems.
To develop a system around this technology, KMC Systems applied expertise in mechanical and electrical engineering as well as embedded software development. Key subsystems developed by KMC Systems included a high-performance thermal cycler and a multi-wavelength fluorescence imaging system. KMC Systems also collaborated with the customer to incorporate the existing user interface and image processing technology.