Laboratory Automation
Lab automation applications, ranging from the use of multi-tip pipetters to fully automated robotic platforms for high-throughput operations, are becoming more complex as technology and the demands of a competitive market rapidly advance.
Sample Aliquotor
KMC Systems was selected as the contract design and manufacturing partner for an instrument that automates the transfer of samples from sealed containers into test tubes for assay processing. Targeted for commercial reference labs, the system's functions include tube uncapping and recapping, bar code tracking for chain of custody control, sample aspiration and dispense, and real-time sample process tracking.
To enable throughput of 1,000 samples per hour, KMC integrated the mechanical elements of the medical device with a high-volume multichannel pipetting robot, requiring the development of advanced software controls. Additionally, the system was developed with an advanced user interface that displays a simulation of the instrument deck, allowing for real-time viewing of sample processing and visual interpretations of error flagging, for ease-of-use advantages.
With design for manufacturability considered throughout the design process, the instrument was easily transitioned to manufacturing at KMC Systems.
Bacterial Sample Preparation Automation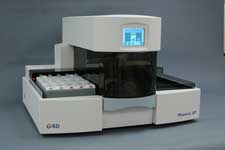 KMC Systems was contracted to develop an instrument to automate the manual steps needed to prepare samples for bacterial identification and anti-microbial susceptibility testing. The system automatically processes tubes containing bacterial suspensions by conducting nephelometry analysis to prepare precise sample dilutions to create the appropriate McFarland standard.
Employing expertise in precise robotics, fluidics and mechanisms, KMC Systems engineered the device to transport the tubes by a reusable rack tracked by RFID technology. KMC Systems also developed the graphical user interface to track processes on the instrument's deck, and a web-based software diagnostic tool to assist field service operations.
After a successful transition from product design phases, KMC Systems is currently contract manufacturing the product.
Automated Liquid-based Cytology Sample Processor
A company that developed requirement specifications for a system to automate the handling and transfer of cervical specimens for molecular diagnostic testing contracted KMC Systems for development services. KMC Systems engineered the entire device, including the electrical, software and mechanical functions and user interface.
Key developed mechanisms included racks to hold the liquid-based cytology vials and the indexing carousel that moved them into appropriate position for processing. KMC Systems also engineered robotic mechanisms to uncap and recap vials, and a mechanical agitation mechanism to create uniform cell suspension. The system also includes a pipette robot that transfers sample from vials to the assay processing disposable.