IVD Instrumentation
Automated Clinical Chemistry Analyzer
KMC Systems' contract manufacturing services began with this fully automated analyzer for the detection and quantification of blood chemistries, one of the first centrifugal random access chemical analyzers to reach the market. Its technology utilizes absorbance photometry. This product was successfully produced by KMC Systems for many years. As new product models became available, KMC Systems quickly modified its flexible manufacturing lines to accommodate the customer.
Automated IHC Slide Stainer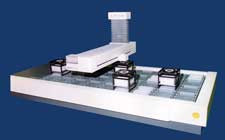 A company with an automated instrument for the immunohistochemical staining of biopsy sections required a cost-effective, high-volume manufacturing operation. KMC Systems was selected as the contract manufacturer due to its extensive regulatory knowledge and established quality infrastructures.
While the customer had finalized product development, KMC Systems recommended and implemented design enhancements to reduce the final cost of the product. The complex instrument is able to run multiple protocols simultaneously, processes up to 240 slides per run, and includes automated features such as capillary gap staining technology and robotic slide transport.
With experience in both medical system engineering and manufacturing, KMC Systems was able to seamlessly transition the project into manufacturing and was able to meet the customer's quality and volume demands.
Automated Immunoassay Analyzer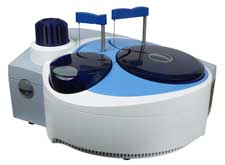 To develop the concept for a fully automated, random-access immunoassay analyzer, KMC Systems first conducted user research to identify important product features. As the contract designer, KMC Systems applied expertise in mechanical, electrical, and software engineering to develop the analyzer. This utilizes direct chemiluminescence for the detection and quantification of analytes from serum or plasma samples.
The instrument also includes robotic functions for reagent and sample dispensing and mixing as well as modules for luminescence detection, magnetic particle separation and wash, and reagent refrigeration; all of which were designed by KMC Systems.
KMC Systems performed medical device verification and system and software verification before transitioning the design to manufacturing. The company also successfully contract manufactured the product to high-quality standards.
Automated Immunoblot Analyzer
Creating tools to automate previously manual processes is a major trend in the medical and laboratory worlds. One company recognized a customer's need for an automated solution to process immunoblot test strips for the confirmatory detection of HIV and HVC in blood. Due to the complexity of the engineering work required, the company contracted KMC Systems to design the instrument.
By applying expertise in software, electrical, systems and mechanical engineering, KMC Systems created an instrument that automated reagent delivery and mixing, strip washing and incubation, and CCD imaging and analysis. In particular, automating the assay process proved challenging. KMC Systems solved this by developing a disposable that contained the immunoblot strip. It also developed a multi-functional carousel that provided 37° C incubation, rocked the disposable to mix reagent, and had a centrifugal function to move spent reagent into a waste receptacle on the disposable. KMC also developed powerful and robust pattern recognition algorithms to interpret the results and rules for artifact rejection.
KMC Systems accounted for manufacturing during design and smoothly transitioned the project to production to speed time to market. The instrument was contract manufactured at KMC Systems' Merrimack, NH, location.
Automated Walk-Away Molecular Diagnostic System
This instrument, which automates a patented nucleic acid probe amplification technology for the detection of infectious diseases, was to be the first completely walk-away molecular diagnostic system of its kind. Early instrument prototypes were not functional, so the company turned to KMC Systems because of the project's requirement of advanced engineering and manufacturing capabilities.
KMC Systems enhanced the customer's design to improve reliability performance and software functionality. Because the system conducts automated functions, such as closed-tube sampling, reagent delivery, magnetic separation and washing, expertise in precision motion, software and fluidics was applied. Precision motion control and alignment were especially critical as the instrument was designed with a disposable that needed to be robotically moved in and out of various modules. The instrument also automates thermally controlled amplification and hybridization and chemiluminescence detection.
The manufacturable design was smoothly transitioned to KMC Systems' production facility. KMC has continued to provide sustaining engineering support and implemented continuous reliability improvements, which have resulted in the most successful instrument of its type in the market.
Blood Smear Maker and Slide Stainer
An in-vitro diagnostic company with technology for white blood cell differential analysis partnered with KMC Systems to develop an automated analyzer for the production of blood smears for hematology labs.
KMC Systems developed a functional prototype with automated features including closed-tube sampling, microscope slide transport, blood smear making, and staining.
Electrophoresis Molecular Diagnostic System
KMC System contract developed a system that automates the testing of donor platelets for bacterial contamination, using non-amplified, direct-hybridization technology for the detection of bacterial RNA. The device includes two modules, a lysis and hybridization module and an electrophoretic module; both of which were developed by KMC Systems. The device includes a commercial luminometer that performs signal detection.
The system is able to automate thermally controlled cell lysis and probe hybridization, electrophoretic separation, and membrane target capture.
NMR Clinical Chemistry System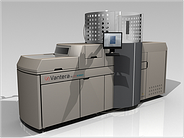 This proprietary product uses nuclear magnetic resonance (NMR) technology to identify and quantify analytes in blood samples. One particular test will be used as a tool to assist physicians with their assessment of patient cardiovascular disease risk. KMC Systems was contracted to provide manufacturing inputs to the product development process and made several recommendations to improve its manufacturability, serviceability and testability. KMC Systems also leveraged its proprietary, off-the-shelf software tool ecDIAG to allow the early operation of the instrument while the system software was being developed.
Leveraging our expertise in manufacturing complex medical systems and our Manufacturing Execution System (MES) with robust quality control capabilities, KMC Systems transitioned this product to manufacturing and was awarded continuous production of this product.
Point-of-Care Cell Analysis System
A medical device company developed a proprietary disposable cartridge that processes cellular samples. KMC Systems designed and developed a point-of-care cell analysis system based on this cartridge.
KMC managed the co-development of a robust, fully automated, battery-powered point-of-care instrument that processes and analyzes whole blood samples from a disposable microfluidic cartridge. It utilizes an integral digital microscope and fluorescent light sources to illuminate and image whole blood cells. KMC developed the instrument architecture, system electronics, mechanical mechanisms and enclosure packaging, while integrating the optical subsystem and image analysis software that were co-developed by other companies. Additionally, KMC performed system integration, verification and validation testing, and built several prototypes to support clinical testing.
Point-of-Care Immunoassay Analyzer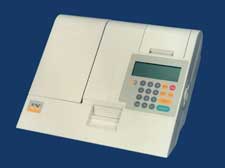 A company that designed a bench-top immunoassay analyzer for use in small clinical and physician office laboratories approached KMC Systems for contract manufacturing. The instrument automates the processing of a disposable test cartridge containing all reagents required to perform the test and fluorescence signal detection.
When the original assay chemistry was found to be irreproducible, the customer switched to a liquid-based technology and design changes were required for the instrument to process the new assay chemistry. However, the OEM had already invested significantly into the instrument's tooling and any changes would be costly. KMC Systems implemented the necessary engineering changes, including adding a photo multiplier-based detection system and incorporating fluidics – without changing its form factor – saving time and money.
The instrument was successfully transitioned to manufacturing and produced successfully at KMC Systems' facility.
Real-Time PCR Imaging System
A start-up company with a proprietary thru-hole biochip technology sought an experienced company to develop its product. The company chose KMC Systems due to its expertise in developing and manufacturing advanced medical systems.
To develop a system around this technology, KMC Systems applied expertise in mechanical and electrical engineering as well as embedded software development. Key subsystems developed by KMC Systems included a high-performance thermal cycler and a multi-wavelength fluorescence imaging system. KMC Systems also collaborated with the customer to incorporate the existing user interface and image processing technology.
Semi-Automated Molecular Diagnostic System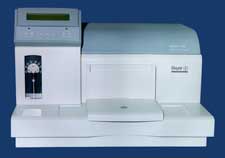 When a company evaluated its production strategy for a semi-automated molecular diagnostic system, it decided to outsource manufacturing for added business value. The instrument, which automates a patented DNA-probe technology for the direct quantification of viral nucleic acids, had several complex components and required advanced manufacturing efforts. Automated features included plate washing, thermally controlled hybridization, and fluorescence signal detection.
KMC Systems was selected as the contract manufacturer due to its extensive experience transitioning complex medical systems and instruments to manufacturing. This industry experience facilitated a seamless transfer of the manufacturing operations from the original manufacturing site to KMC Systems' Merrimack, NH, facility, during which each milestone was successfully reached.