Immunoassay Analyzers
With recent advancements and growing demand in life science and laboratory diagnostics, today's immunoassay analyzers need to provide high-volume, high-throughput automation in a multi-module, integrated system. If you don't have the in-house expertise to design, develop and manufacture an instrument that automates previously manual processes, partner with KMC Systems to leverage over 35 years of proven engineering and manufacturing success.
Automated Immunoassay Analyzer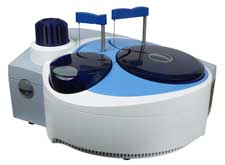 To develop the concept for a fully automated, random-access immunoassay analyzer, KMC Systems first conducted user research to identify important product features. As the contract designer, KMC Systems applied expertise in mechanical, electrical, and software engineering to develop the analyzer. This utilizes direct chemiluminescence for the detection and quantification of analytes from serum or plasma samples.
The instrument also includes robotic functions for reagent and sample dispensing and mixing as well as modules for luminescence detection, magnetic particle separation and wash, and reagent refrigeration; all of which were designed by KMC Systems.
KMC Systems performed medical device verification and system and software verification before transitioning the design to manufacturing. The company also successfully contract manufactured the product to high-quality standards.
Automated Immunoblot Analyzer
Creating tools to automate previously manual processes is a major trend in the medical and laboratory worlds. One company recognized a customer's need for an automated solution to process immunoblot test strips for the confirmatory detection of HIV and HVC in blood. Due to the complexity of the engineering work required, the company contracted KMC Systems to design the instrument.
By applying expertise in software, electrical, systems and mechanical engineering, KMC Systems created an instrument that automated reagent delivery and mixing, strip washing and incubation, and CCD imaging and analysis. In particular, automating the assay process proved challenging. KMC Systems solved this by developing a disposable that contained the immunoblot strip. It also developed a multi-functional carousel that provided 37° C incubation, rocked the disposable to mix reagent, and had a centrifugal function to move spent reagent into a waste receptacle on the disposable. KMC also developed powerful and robust pattern recognition algorithms to interpret the results and rules for artifact rejection.
KMC Systems accounted for manufacturing during design and smoothly transitioned the project to production to speed time to market. The instrument was contract manufactured at KMC Systems' Merrimack, NH, location.
Point-of-Care Immunoassay Analyzer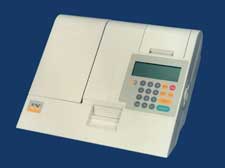 A company that designed a bench-top immunoassay analyzer for use in small clinical and physician office laboratories approached KMC Systems for contract manufacturing. The instrument automates the processing of a disposable test cartridge containing all reagents required to perform the test and fluorescence signal detection.
When the original assay chemistry was found to be irreproducible, the customer switched to a liquid-based technology and design changes were required for the instrument to process the new assay chemistry. However, the OEM had already invested significantly into the instrument's tooling and any changes would be costly. KMC Systems implemented the necessary engineering changes, including adding a photo multiplier-based detection system and incorporating fluidics – without changing its form factor – saving time and money.
The instrument was successfully transitioned to manufacturing and produced successfully at KMC Systems' facility.