Hematology and Pathology Instruments
Automated IHC Slide Stainer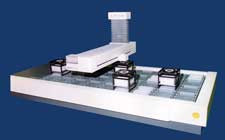 A company with an automated instrument for the immunohistochemical staining of biopsy sections required a cost-effective, high-volume manufacturing operation. KMC Systems was selected as the contract manufacturer due to its extensive regulatory knowledge and established quality infrastructures.
While the customer had finalized product development, KMC Systems recommended and implemented design enhancements to reduce the final cost of the product. The complex instrument is able to run multiple protocols simultaneously, processes up to 240 slides per run, and includes automated features such as capillary gap staining technology and robotic slide transport.
With experience in both medical system engineering and manufacturing, KMC Systems was able to seamlessly transition the project into manufacturing and was able to meet the customer's quality and volume demands.
Blood Smear Maker and Slide Stainer
An in-vitro diagnostic company with technology for white blood cell differential analysis partnered with KMC Systems to develop an automated analyzer for the production of blood smears for hematology labs.
KMC Systems developed a functional prototype with automated features including closed-tube sampling, microscope slide transport, blood smear making, and staining.
Point-of-Care Cell Analysis System
A medical device company developed a proprietary disposable cartridge that processes cellular samples. KMC Systems designed and developed a point-of-care cell analysis system based on this cartridge.
KMC managed the co-development of a robust, fully automated, battery-powered point-of-care instrument that processes and analyzes whole blood samples from a disposable microfluidic cartridge. It utilizes an integral digital microscope and fluorescent light sources to illuminate and image whole blood cells. KMC developed the instrument architecture, system electronics, mechanical mechanisms and enclosure packaging, while integrating the optical subsystem and image analysis software that were co-developed by other companies. Additionally, KMC performed system integration, verification and validation testing, and built several prototypes to support clinical testing.