Clinical Chemistry Systems
Automated Clinical Chemistry Analyzer
KMC Systems' contract manufacturing services began with this fully automated analyzer for the detection and quantification of blood chemistries, one of the first centrifugal random access chemical analyzers to reach the market. Its technology utilizes absorbance photometry. This product was successfully produced by KMC Systems for many years. As new product models became available, KMC Systems quickly modified its flexible manufacturing lines to accommodate the customer.
NMR Clinical Chemistry System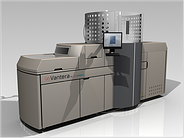 This proprietary product uses nuclear magnetic resonance (NMR) technology to identify and quantify analytes in blood samples. One particular test will be used as a tool to assist physicians with their assessment of patient cardiovascular disease risk. Initially, KMC Systems was contracted to provide manufacturing inputs to the product development process, and made several recommendations to improve its manufacturability, serviceability and testability. KMC Systems also leveraged its proprietary, off-the-shelf software tool ecDIAG to allow the early operation of the instrument while the system software was being developed.
KMC Systems has transitioned this product to manufacturing at its Merrimack, N.H., facility. Continuous production of this product was awarded to KMC Systems, leveraging our expertise in manufacturing complex medical systems and proprietary Manufacturing Execution System, providing rigorous quality control.
HPLC Drug Analyzer
KMC Systems contract designed and developed an instrument to detect the presence of drugs in urine samples using high-performance liquid chromatography (HPLC). To engineer the analyzer, which screens for up to 800 different drugs and metabolites simultaneously, KMC Systems engineers applied knowledge of electronics, software, automation, and fluidics. KMC Systems also served as the company's long-term manufacturing partner.