Medical Contract Manufacturing Portfolio
Automated Clinical Chemistry Analyzer
KMC Systems' contract manufacturing services began with this fully automated analyzer for the detection and quantification of blood chemistries, one of the first centrifugal random access chemical analyzers to reach the market. Its technology utilizes absorbance photometry. As new product models became available, KMC Systems quickly modified its flexible manufacturing lines to accommodate the customer.
Point-of-Care Immunoassay Analyzer
A company that designed a bench-top immunoassay analyzer for use in small clinical and physician office laboratories approached KMC Systems for contract manufacturing. The instrument automates the processing of a disposable test cartridge containing all reagents required to perform the test and fluorescence signal detection.
When the original assay chemistry was found to be irreproducible, the customer switched to a liquid-based technology and design changes were required for the instrument to process the new chemistry. However, the OEM had already invested significantly into the instrument's tooling and changes would be costly. KMC Systems implemented the necessary engineering changes, including adding a photo multiplier-based detection system and incorporating fluidics, without changing its form factor.
The instrument was successfully transitioned to manufacturing and produced successfully at KMC Systems' facility. Time and money were saved, and the client was happy.
NMR Clinical Chemistry System
This proprietary product uses nuclear magnetic resonance (NMR) technology to identify and quantify analytes in blood samples. One particular test will be used as a tool to assist physicians with their assessment of patient cardiovascular disease risk.
Initially, KMC Systems was contracted to provide manufacturing inputs to the product development process, and made several recommendations to improve its manufacturability, serviceability and testability. KMC Systems also leveraged its off-the-shelf software tool, ecDIAG, to allow the early operation of the instrument while the system software was still being developed.
KMC Systems is in the process of transitioning this product to manufacturing at its Merrimack, NH, facility. Continuing production of this product was awarded to KMC Systems because of its manufacturing expertise, as well its proprietary Manufacturing Execution System, providing rigorous quality control.
Automated IHC Slide Stainer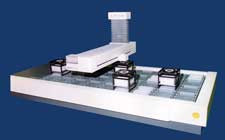 A company with an automated instrument for the immunohistochemical staining of biopsy sections required a cost-effective, high-volume manufacturing operation. KMC Systems was selected as the contract manufacturer because of its extensive regulatory knowledge and established quality infrastructures.
While the customer had finalized product development, KMC Systems recommended and implemented design enhancements to reduce the product's final cost. The complex instrument is able to run multiple protocols simultaneously, processes up to 240 slides per run, and includes automated features, such as capillary gap staining technology and robotic slide transport.
With experience in both medical system engineering and contract manufacturing, KMC Systems was able to seamlessly transition the project into manufacturing and was able to meet the customer's quality and volume demands.
DNA Purification System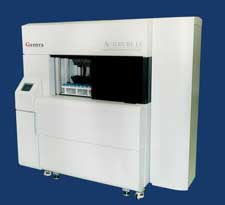 A company with a proprietary nucleic acid purification technology sought a manufacturing partner. The instrument was designed to automate reagent delivery, robotic tube processing, and tube uncapping, capping, and decanting, and process up to 96 samples per eight hours with sample volumes ranging from 1 to 10 mL.
KMC Systems was selected as the medical contract manufacturer due to lengthy experience assembling complex medical systems. When the instrument was transitioned to KMC Systems, there were no assembly instructions, no structured bill of material, and no established test protocols. KMC Systems quickly reverse manufactured the product, creating the documentation necessary to establish full-scale GMP production.
KMC Systems also provided contract engineering services to redesign the instrument's frame and several subsystems for enhanced manufacturability and reliability.
Semi-Automated Molecular Diagnostic System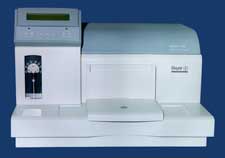 When a company evaluated its production strategy for a semi-automated molecular diagnostic system, it decided to outsource manufacturing for added business value. The instrument, which automates a patented DNA-probe technology for the direct quantification of viral nucleic acids, had several complex components and required advanced manufacturing efforts. Automated features included plate washing, thermally controlled hybridization, and fluorescence signal detection.
KMC Systems was selected as the contract manufacturer due to its extensive experience transitioning complex medical systems and instruments to manufacturing. This industry experience led to a seamless transfer of the manufacturing operations from the original manufacturing site to KMC Systems' Merrimack, NH, facility, during which each milestone was successfully reached.