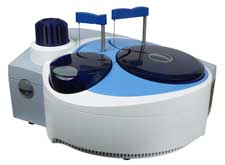 When asked to develop the concept for a fully automated, random-access immunoassay analyzer, KMC Systems began the development phase with defining system requirements and conducted user research in order to determine the most important product features.
From the system level, KMC engineers drilled down to the module level requirements and design documents in order to ensure that all details necessary to meeting the requirements of the automated immunoassay analyzer are documented, including:
architecture
operating principles
design rationale
When transitioning to the design phase, KMC Systems mechanical, electrical and software engineers collaborated to create an immunoassay analyzer that utilizes direct chemiluminescence for the detection and quantification of analytes from serum or plasma samples. KMC engineers designed this immunoassay analyzer to also include robotic functionality that achieves reagent and sample dispensing and mixing as well as innovative modules for luminescence detection, magnetic particle separation and wash and reagent refrigeration.
Before transitioning from design to the manufacturing phase, KMC Systems performed medical instrumentation verification and system and software verification. Then KMC Systems successfully manufactured the immunoassay analyzer to the highest quality standards.
Click here to see more instrumentation like this in the KMC Product Portfolio.
Want to learn more about KMC Systems expertise and discuss your next instrumentation project? Contact us today.
Interested in IVD product development? Download this IVD White Paper.